Our handmade long stem porcelain roses are an elegant gift. Even up close you have to touch them to see if they are real roses. Each around 18 inches long on their stem, they let you enjoy the look of fresh roses all the time. Bloom part is porcelain and around 3" wide by 2" tall. Stem & leaves are a bendable soft acrylic similar what is often found on silk flowers or other artificial flowers.
We package them carefully for protection
and they can be delivered with your message.
All of our products include 45 day full refund guarantee & free shipping on U.S. orders.
Artists at work in the Fiero, Italy studio

Porcelain Roses - Bloom Style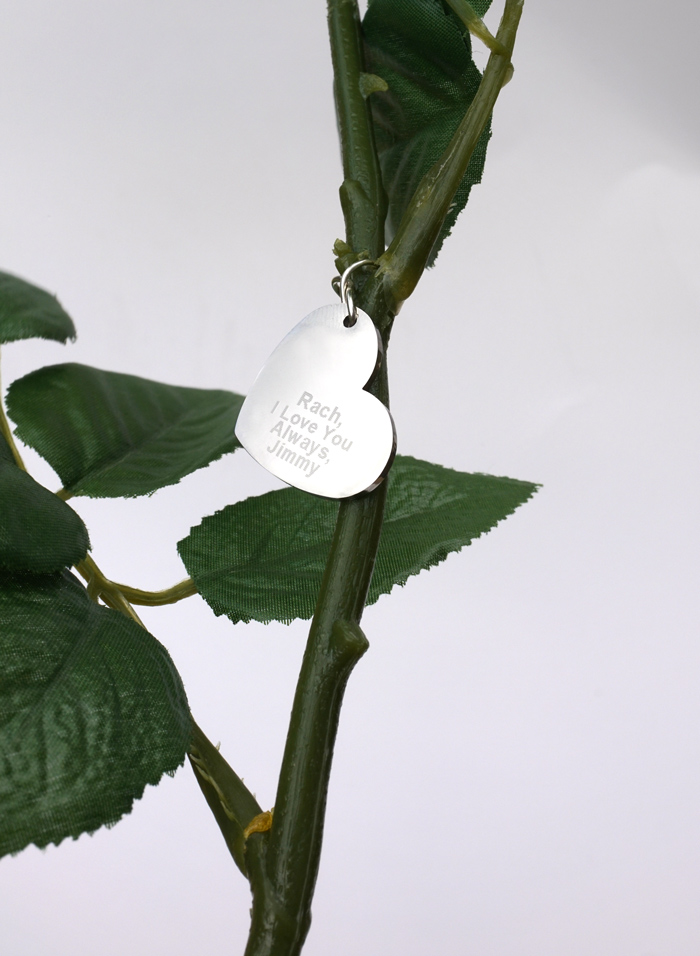 Add your engraved message on dime-size stainless steel or gold plated tag on one stem $25
Round or Heart Shape Tags Available

Single Porcelain Rose $39
Half Dozen Roses No Vase $128
(Vase Available Lower on Page)
9 Porcelain Roses No Vase $188
(For 9th "Pottery Anniversary")
12 Porcelain Roses No Vase $228

Add your engraved message on dime-size stainless steel or gold plated tag on one stem $25
Up to 42 characters. Does not delay order.

Vases For Porcelain Rose Sets
We offer two sizes of large plain glass vases to fit the multiple rose sets. You may be able to find nicer, more stylish glass or even crystal vases at a local store, or lower prices on the vases locally due to the expense of shipping and packaging to protect this item. If you are shopping for your own vase we recommend somewhere around 9" in height and around 6" in opening to the vase depending on how many roses you get.
Note that these vases can only be shipped by basic shipping (no 2nd day air or next day air) to the 48 states and can't be shipped out of the USA due to the size / weight etc. Porcelain roses only sets WITHOUT the vase CAN be shipped by air options or internationally. If you add porcelain roses AND a vase and beads set to your cart or an order of just the glass vase and beads, it will only let you checkout going to the 48 states and only with basic shipping.
Glass Vase for 6 Roses $25

Larger Glass Vase for 9-18 Roses $35