Real Roses Coated With Mirror-Like Chrome
Real roses covered with layers of beautiful real chome to give them a mirror like coating and preserve them forever.
We ship worldwide. All gifts are gift boxed and can include your message on a card or an engraved tag around the flower stem. All of our products include a 45 day full refund guarantee & FREE SHIPPING on U.S. orders over $100.
Note: Roses are completely mirror-like coated.
Dark areas in photo are shadows and reflections on the surface.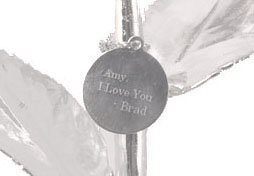 Add engraved message on dime-size sterling silver tag on stem for $25 extra.
Up to 44 characters. Does not delay order. Example shown on silver rose stem.
Add Engraved Tag on Stem $25