Real Calla Lilies Covered Silver or Gold to Last Forever
A small real calla lily preserved under real gold or silver plating. Each one is unique and varies in size and shape but they are around 5 inches long & 4 inches wide. Each lily is 2 blooms on one "Y" shaped stem with leaves. Gift boxed and delivered with your message. As with all of our gifts, your satisfaction is guaranteed, or your money back.
We ship worldwide. All of our products include a 45 day full refund guarantee & FREE SHIPPING on U.S. orders.
Pair of lilies (2 stems & 4 blooms) in vase
Add engraved message on gold plated tag for $25 extra
Up to 42 characters. Does not delay order.
(Example tag shown on gold rose stem)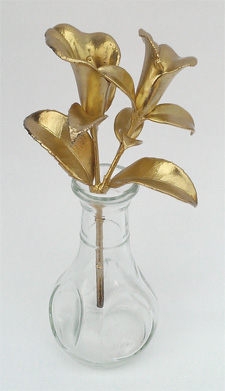 Single Lilly (2 blooms) in Vase
Engraved Message Tag $25