White Real Rose Preserved
Great for 14th Anniversary - "The Ivory Anniversary"
Ivory is a pure white material usually from the tusks of elephants. As elephants are an endangered type of species, it can be difficult to find a gift made from actual ivory - so we present The Ivory Rose. This rose is not made from elephant ivory but is a real rose of beautiful white ivory color which has been preserved to last forever under a clear acrylic coating and trimmed in 24kt gold plating.
The 14th wedding anniversary is traditionally the "Ivory Anniversary" so this is an especially great gift for that occasion.
Each rose is unique and around 12 inches in length. Each is beautifully gift boxed and delivered with your message. All of our products include a 45 day full refund guarantee & FREE SHIPPING on U.S. orders.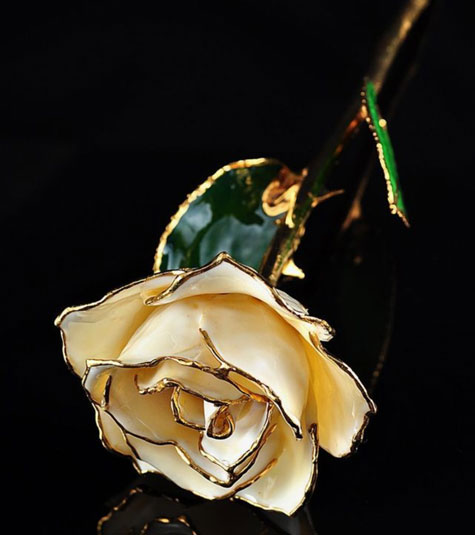 Ivory Rose w/ Gold Trim
Your Message Engraved on Round or Heart Shape Tag on Stem
(Heart Tag Example is on Gold Rose)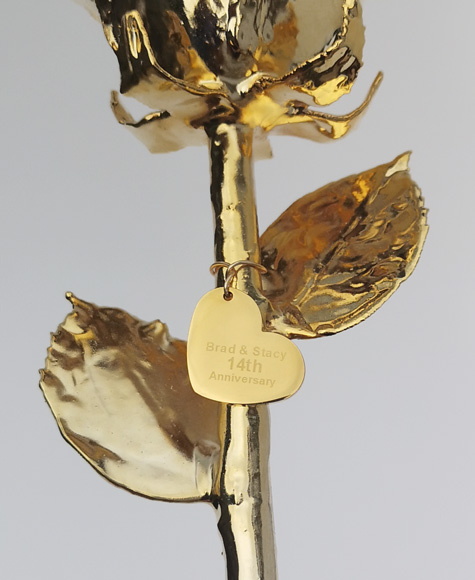 Add engraved message on dime size gold plated tag $25
Engraved message on dime sized gold plated tag on stem $25
Up to 42 characters. Does not delay order.