Real Roses Covered in Real Gold or Silver to Last Forever

Send a rose that lasts a lifetime. A real rose preserved, stiffened, and covered in a layer of real 24kt gold or silver. Each rose is unique and these roses are even more stunning in real life than can be captured in photos here. Regular roses fade in days but these gold roses will last and be treasured forever. Each rose is preserved under the metal so it will last for decades and is also made stiff and strong by the process so it is not too fragile to touch or hold.
We can deliver a gold rose with your personalized message on a card or an engraved tag attached to the rose and in a beautiful gift box. We ship worldwide.

Some send a dozen, or half-dozen gold roses for a gift that will never be forgotten. Our pairs of roses that fit in a single vase are very popular. Also available are platinum roses. All of our products include a 45 day full refund guarantee & FREE SHIPPING on U.S. orders over $100.


Bloom Style Rose (left) & Bud Style (right)
Bloom Style Petals are 'Fully Opened' Bud Style is 'Semi Opened'


.


Add engraved message on dime-size gold plated tag $25
Up to 42 characters. Does not delay order.
"She loved it! In the process I have made many husbands angry with me...their wives want one also!"
Small 5" Gold & Silver Roses
The finish is slightly more antiqued looking than our brighter, larger roses. How open or closed the petals are can vary a lot from rose to rose & there are no leaves on the stem like our larger roses.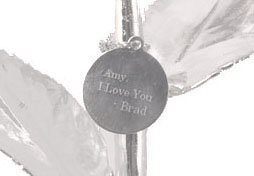 Add engraved message on dime-size sterling silver tag $25
Up to 42 characters. Does not delay order.
| | |
| --- | --- |
| | Engraved Message Tag $25 |