Small Real Roses Preserved & Hand Painted Enamel
Small real roses preserved under real silver plating, then accented on the petals with beautiful hand-painted enamel colors. Flowers are about 5 " long and 2" wide at the top. Stem and sepals (small leaves under the petals) are left silver.
We ship worldwide. All gifts are gift boxed and can include your message on a card or an engraved tag around the flower stem. All of our products include a 45 day full refund guarantee & FREE SHIPPING on U.S. orders.
Available in 2 Color Styles
Rose with silver & red petals shown on left
Rose with white & red petals is on right
Pair of silver & red petal roses above
Pair of white & red petal roses below
Silver & red petals roses in photo above
White & red petals roses in photo below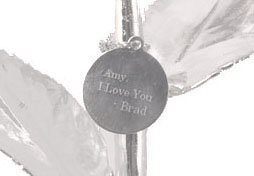 Engraved message on stainless steel tag on stem $25
Example tags shown on silver rose stems


Add engraved message dime size tag on stem $25
Up to 42 characters. Does not delay order.