Real Roses Preserved & Covered in Beautiful Copper or Bronze
Send a rose that lasts a lifetime. A small real rose preserved and plated in copper or bronze. Each rose is preserved under the metal so it will last for years and is also made stiff and strong by the process so it is not too fragile - they are more like a small statue with a real, unique rose inside. These roses are about 5 inches long.
These are perfect for the 7th Anniversary, Traditionally the Copper Anniversary, or 8th Anniversary, Traditionally the Bronze Anniversary. Also for the "Modern" 22nd Anniversary which is copper or "Modern" 19th Anniversary which is bronze or for any occasion that you would like a small rose with the unique look of copper or slightly antiqued looking bronze.
All of our products include a 45 day full refund guarantee & FREE SHIPPING on U.S. orders.
Copper Rose Shown on Left
Bronze Rose Shown on Right


Pair of Copper Roses in Vase


Pair of Bronze Roses in Vase
Your Message Engraved on Round or Heart Shape Tag on Stem
Example tags shown on gold & ivory roses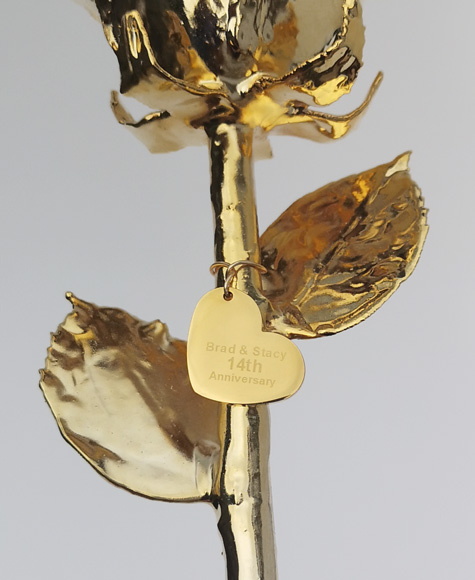 Engraved message on dime size gold plated tag on stem $25
Up to 42 characters. Does not delay order.