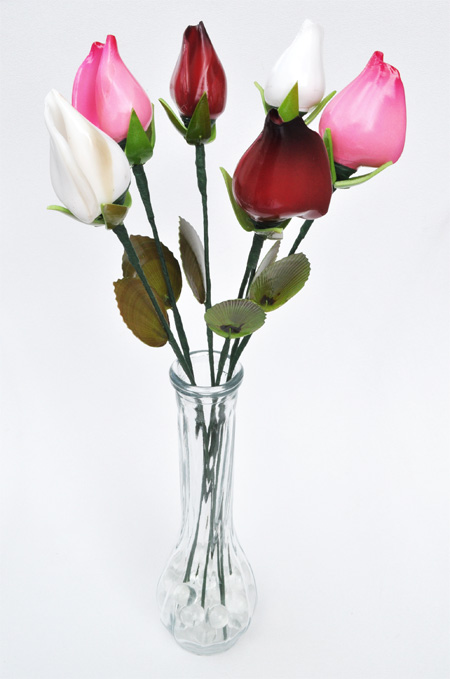 Bud Style Shown Above.
Note: Yellow Instead of White Currently

Bloom Style Shown Below.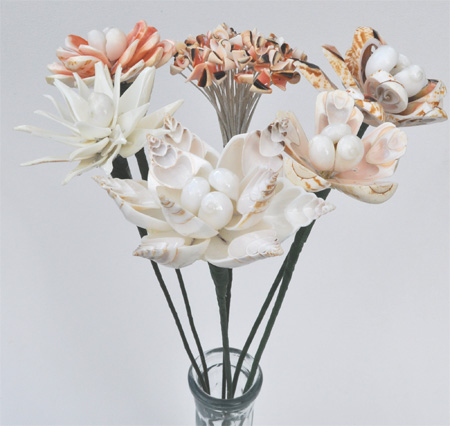 These handmade flowers from real seashells are around 16" tall on wire stems. Each set includes a 9" tall clear glass vase. Available in 2 styles - the assortment of bloom style shell flowers or a set of rose bud style shell flowers. Not available by air shipping - choose ground shipping. All of our products include a 45 day full refund guarantee & FREE SHIPPING on U.S. orders over $100.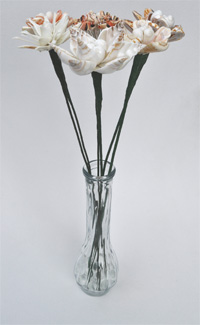 Half Dozen Bloom Shell
Flowers & Vase $58

Half Dozen Rose Bud
Shell Flowers & Vase $58
Mixed Red, Pink, Yellow Colors
Dozen Bloom Shell
Flowers & Vase $108
Dozen Rose Bud Shell
Flowers & Vase $108
Mixed Red, Pink, Yellow Colors

Engraved message on dime-size gold plated or sterling silver tag on vase $25